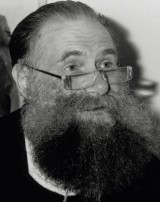 Yvan Delporte (24 June 1928 - 5 March 2007) was a Belgian comics writer, and was editor-in-chief of Spirou magazine between 1955 and 1968 during a period considered by many the golden age of Franco-Belgian comics. He is credited with several creative contributions, among these his collaborations with Peyo on The Smurfs, with René Follet on Steve Severin and André Franquin with the creation of Gaston Lagaffe and the co-authorship of Idées noires.
Ad blocker interference detected!
Wikia is a free-to-use site that makes money from advertising. We have a modified experience for viewers using ad blockers

Wikia is not accessible if you've made further modifications. Remove the custom ad blocker rule(s) and the page will load as expected.