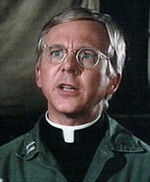 William Christopher
(October 20, 1932 - December 31, 2016) is an American actor who is best known for playing Father Mulcahy on the television series
M*A*S*H
and Private Lester Hummel on
Gomer Pyle, U.S.M.C.
In the Smurfs cartoon show, he voiced the character of
Angel Smurf
, who usually shows up along with
Devil Smurf
when a
Smurf
is faced with a moral dilemma that tempts him or her to do an evil thing.
Ad blocker interference detected!
Wikia is a free-to-use site that makes money from advertising. We have a modified experience for viewers using ad blockers

Wikia is not accessible if you've made further modifications. Remove the custom ad blocker rule(s) and the page will load as expected.