Smurfette as the Smurf Of Christmas Past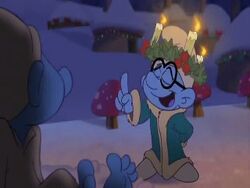 Brainy as the Smurf Of Christmas Present
Hefty as the Smurf Of Christmas Future

The Three Smurfs Of Christmas were spirits induced by Grouchy ingesting The Christmas Spirit created by Papa Smurf in the video feature The Smurfs: A Christmas Carol. The spirits are modeled after three particular Smurfs in the village: Smurfette is the Smurf Of Christmas Past, Brainy is the Smurf Of Christmas Present, and Hefty is the Smurf Of Christmas Future. Their function is similar to the Three Ghosts Of Christmas in Charles Dickens' A Christmas Carol, with the Smurf Of Christmas Past showing Grouchy what his Christmases were like, the Smurf Of Christmas Present revealing things going on in the present-day Christmas that Grouchy may not be aware of, and the Smurf Of Christmas Future showing Grouchy what Christmas will be like if certain changes to his life weren't made.
During the course of the Three Smurfs Of Christmas' visitation, Grouchy's hatred for Christmas is revealed when he was constantly disappointed by the fact that, instead of getting a hang glider for Christmas, the only thing he kept getting for a Christmas present was a Smurf hat, with the final blow coming when Jokey played his usual "surprise" prank on Grouchy, making him think that Papa Smurf finally came through with giving him a hang glider. Grouchy's non-participation in Christmas with his fellow Smurfs would lead to them being captured in the West Forest by Gargamel, with Papa Smurf being his last victim. It was from this visitation that Grouchy realized the importance of Christmas was having the gift of family rather than having the perfect gift.
Ad blocker interference detected!
Wikia is a free-to-use site that makes money from advertising. We have a modified experience for viewers using ad blockers

Wikia is not accessible if you've made further modifications. Remove the custom ad blocker rule(s) and the page will load as expected.