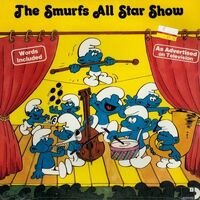 The Smurfs All-Star Show is an album featuring the Smurfs that was released by PolyGram in 1981.
SIDE ONE:
The Smurfs All Star Show
Welcome to Smurfland
Catch Me
Old Papa Smurf
Silly Shy Smurf
Smurfing Land Express
Smurf A Happy Tune
SIDE TWO:
The Clapping And Jumping Song
Yankee Doodle
London Bridge Is Falling Down
Smurfing Days
Space Smurfs
Rock-A-Bye Baby.
Ad blocker interference detected!
Wikia is a free-to-use site that makes money from advertising. We have a modified experience for viewers using ad blockers

Wikia is not accessible if you've made further modifications. Remove the custom ad blocker rule(s) and the page will load as expected.