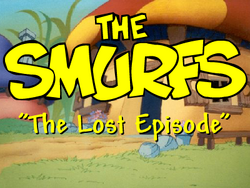 "The Smurfs: The Lost Episode" is not really a "lost episode", but is in fact a "non-canonical" Smurf presentation flash animation video created by Double G Productions. It uses rather crude adult humor in its music and in its depictions of various Smurfs, and is not considered suitable for general audiences. It can currently be seen on YouTube.
Ad blocker interference detected!
Wikia is a free-to-use site that makes money from advertising. We have a modified experience for viewers using ad blockers

Wikia is not accessible if you've made further modifications. Remove the custom ad blocker rule(s) and the page will load as expected.