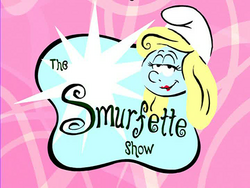 "
The Smurfette Show
" was an animated
TV Funhouse
segment of
NBC
's
Saturday Night Live
, which featured an obese
Smurfette
in a spoof of
The Anna Nicole Show
, a reality series featuring Anna Nicole Smith. This spoof uses rather adult humor and is not considered suitable for general audiences. It is also considered a
"non-canonical" Smurf story
. Smurfette is sick of living in the same
village
and house. She looks for pizza and finds out
Brainy Smurf
ate it all so they, along with Low Self Esteemy Smurf go to get more, they find
Papa Smurf
,
Handy Smurf
, and
Hefty Smurf
, setting up a poorly made trap for
Azrael
, Smurfette starts cursing and Papa Smurf scolds her for not using the "Smurf language" instead. Smurfette needs to go to the hospital, and Azrael is her doctor.
Ad blocker interference detected!
Wikia is a free-to-use site that makes money from advertising. We have a modified experience for viewers using ad blockers

Wikia is not accessible if you've made further modifications. Remove the custom ad blocker rule(s) and the page will load as expected.