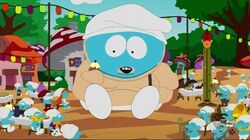 South Park is an animated sitcom created by Trey Parker and Matt Stone. The Smurfs are featured in the episode "Dances With Smurfs" (season 13 episode 13), where the character Eric Cartman is seen interacting with them. Like most episodes from this series, this one uses rather adult humor and is not considered suitable for general audiences. It is also considered a "non-canonical" Smurf story.
See also
External links
Ad blocker interference detected!
Wikia is a free-to-use site that makes money from advertising. We have a modified experience for viewers using ad blockers

Wikia is not accessible if you've made further modifications. Remove the custom ad blocker rule(s) and the page will load as expected.