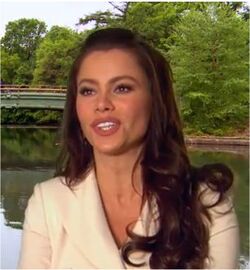 Sofía Margarita Vergara Vergara (born July 10, 1972) is a Colombian actress, comedian, television host, model, and entrepreneur. Vergara had been widely known for co-hosting two TV shows for Univisión in the late 1990s. Her TV career opened up for her a window of exposure to North American audiences prior to her first notable acting job in English, the 2003 film Chasing Papi.
Vergara currently stars on the critically acclaimed ABC series Modern Family as Gloria Delgado-Pritchett, for which she was nominated for a Golden Globe Award, a Primetime Emmy Award, and three Screen Actors Guild Awards. She currently plays the character of Odile Anjelou, an executive at a French cosmetics company and Patrick Winslow's boss, in the 2011 Smurfs movie. She has a scene for her character filmed for the 2013 sequel, but was cut out of the final theatrical release.
Ad blocker interference detected!
Wikia is a free-to-use site that makes money from advertising. We have a modified experience for viewers using ad blockers

Wikia is not accessible if you've made further modifications. Remove the custom ad blocker rule(s) and the page will load as expected.