Ad blocker interference detected!
Wikia is a free-to-use site that makes money from advertising. We have a modified experience for viewers using ad blockers

Wikia is not accessible if you've made further modifications. Remove the custom ad blocker rule(s) and the page will load as expected.
About
The Smurfs are a franchise of characters initially created for Belgian comics, and gained popularity on television in the 1980s. Smurfs are little blue creatures who live in a village made of mushrooms. Their leader is Papa Smurf, who looks over his Smurf society consisting of Brainy Smurf, Smurfette, Handy Smurf and many others. Their arch-nemesis is Gargamel, an evil wizard always trying to catch Smurfs as part of his various nefarious plans. Gargamel's faithful companion is his cat, Azrael.
The characters have currently made their way to the silver screen in the 2011 movie, The Smurfs starring Neil Patrick Harris as Patrick Winslow, Hank Azaria as Gargamel, Sofía Vergara as Odile and Jayma Mays as Grace, with the voices of Anton Yelchin, Alan Cumming, Katy Perry, Paul Reubens, B.J. Novak, George Lopez, Kenan Thompson, Fred Armisen, Jonathan Winters, John Oliver, Gary Basaraba, Tim Gunn and Jeff Foxworthy. None of the original voice actors would be playing the title characters, except Jonathan Winters, who voiced Grandpa Smurf, will voice Papa Smurf.
Warning
:
While the Smurfs cartoon show has been produced by Hanna-Barbera, we do not accept articles featuring Hanna-Barbera characters that have no relation to the Smurfs cartoon show. We do, however, accept articles featuring characters created by Peyo or Studio Peyo that are related to either the original comic books or any visual media the Smurfs appear in.
Trailer
Gallery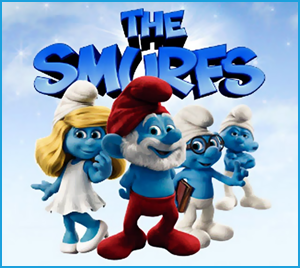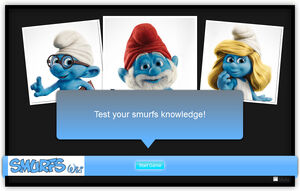 Create blog post
Blogs
I came across this site: http://hillen661.eklablog.com/peyo-pierrot-et-la-lampe-p1107940

It is interesting to see how the panels were arranged and cropped to match to different page sizes.

Read more >

People, you really need to take responsibility to write articles with good enough English to be readable, or else I'm going to outrightly reject them, and trying to resurrect them without doing anyth…

Read more >
See more >
Who is your favorite character?