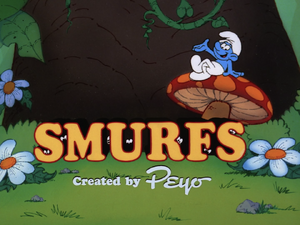 Season 3, which aired from 1983 to 1984, introduced the new main character of Baby Smurf as well as the adult version of Nat Smurf, who would remain an adult until Season 5. It also introduced a new object: Gargamel's Great Book Of Spells, which is activated the morning after the final phase of the full moon. It was also during this season that the cartoon special "The Smurfic Games" was aired. This season would also be the first where there were now 5 episodes that would air in its 90-minute running time until Season 8, with supporting characters Sir Johan and Peewit folded over into the main cast's stories. It was during Season 3 that the "non-canonical" Smurf story "The Smurfs And The Magic Flute", an animated film from Europe, made its run in American theaters in 1983.
Episode Listings
1. Once In A Blue Moon 9/17/1983
2. All Creatures Great And Smurf 9/17/1983
3. The Smurf Fire Brigade 9/17/1983
4. The Winged Wizard 9/17/1983
5. Every Picture Smurfs A Story 9/17/1983
6. The First Telesmurf 9/24/1983
7. Handy's Kite 9/24/1983
8. The Magic Earrings 9/24/1983
9. The Last Smurfberry 9/24/1983
10. A Little Smurf Confidence 10/1/1983
11. Hogatha's Heart Throb 10/1/1983
12. Born Rotten 10/1/1983
13. The Tear Of A Smurf 10/1/1983
14. The Miracle Smurfer 10/1/1983
15. The Smurf Who Would Be King 10/8/1983
16. How To Smurf A Rainbow 10/8/1983
17. Smurfette For A Day 10/8/1983
18. Peewit Meets Bigmouth 10/8/1983
19. Lumbering Smurfs 10/8/1983
20. Handy's Sweetheart 10/15/1983
21. Speak For Yourself, Farmer Smurf 10/15/1983
22. A Hovel Is Not A Home 10/15/1983
23. Forget Me Smurfs 10/15/1983
24. The Grumpy Gremlin 10/15/1983
25. Clumsy Luck 10/22/1983
26. Willpower Smurfs 10/22/1983
27. Baby Smurf Is Missing 10/22/1983
28. The Smurfs' Time Capsule 10/22/1983
29. Wedding Bells For Gargamel 10/29/1983
30. To Smurf A Thief 10/29/1983
31. Greedy And The Porridge Pot 10/29/1983
32. Harmony Steals The Show 10/29/1983
33. The Golden Smurf Award 10/29/1983
34. The Moor's Baby 11/5/1983
35. Hefty's Heart 11/5/1983
36. A Hug For Grouchy 11/5/1983
37. The Magic Rattle 11/5/1983
38. All Hallows' Eve 11/5/1983
39. The Littlest Witch 11/5/1983
40. April Smurf's Day 11/12/1983
41. The Magic Stick 11/12/1983
42. Baby's First Christmas 11/12/1983
43. Beauty Is Only Smurf Deep 11/12/1983
44. Wolf In Peewit's Clothing 11/12/1983
45. A Bell For Azrael 11/12/1983
46. The Chief Record Smurf 11/19/1983
47. Smurfing In Sign Language 11/19/1983
48. A Chip Off The Old Smurf 11/19/1983
49. A Gift For Papa's Day 11/19/1983
50. Good Neighbor Smurf 11/26/1983
51. The Smurfstone Quest 11/26/1983
52. Hats Off To Smurfs 11/26/1983
53. The Noble Stag 11/26/1983
54. Smurfy Acres 11/26/1983
55. No Time For Smurfs 11/26/1983

Video Releases
Amazon Instant Video and iTunes has individual episodes available for download
iTunes and Zune have individual episodes available for download. Some episodes in the iTunes edition carry the syndicated Smurfs Adventures repackaging, as opposed to the rest of the season, which remain uncut and use the original intro sequence and credits.
In October 2011, Magna Home Entertainment released the entire season on DVD set for Australia and New Zealand. All the episodes except the Johan and Peewit episodes are included, along with The Smurfic Games Special.
In October 2011, Sony Pictures Home Entertainment released the third season on DVD set for Germany, featuring all the episodes (except the Johan and Peewit episodes) and The Smurfic Games special.
Fabulous Films released the entire season (with all the episodes, except the Johan and Peewit episodes) on 4-disc DVD set for the United Kingdom from July 2013.
Imavision released a Season 3 DVD set in French in Canada.
Ad blocker interference detected!
Wikia is a free-to-use site that makes money from advertising. We have a modified experience for viewers using ad blockers

Wikia is not accessible if you've made further modifications. Remove the custom ad blocker rule(s) and the page will load as expected.