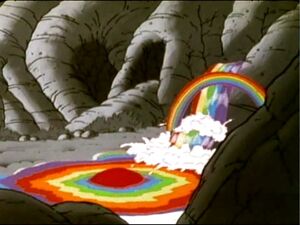 The Rainbow Pool is a location in the Smurf Forest that the Smurfs visit to get the liquid light to restore Spectra the color sprite in the cartoon show episode "The Color Smurfy". It is guarded by a variegated fearsome creature called the Roc.
Ad blocker interference detected!
Wikia is a free-to-use site that makes money from advertising. We have a modified experience for viewers using ad blockers

Wikia is not accessible if you've made further modifications. Remove the custom ad blocker rule(s) and the page will load as expected.