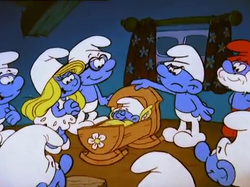 Once In A Blue Moon is a song sung by by Papa Smurf and Dreamy at the end of the episode with the same name that introduced Baby Smurf.
Lyrics
Dreamy: Once in a blue moon a baby comes to stay
Papa Smurf: Once in a blue moon, your heart is smurfed away
Both: And once in a blue moon, your heart is filled with love
Dreamy: And all the things...
Papa Smurf: ...a baby brings...
Both: from somewhere up above [gentle laughter]
International variations
In the French and Arabic versions of the Smurfs cartoon show, Papa Smurf sings the song alone without laughter at the end.
In the 2006 Polish re-dub, Papa Smurf and Dreamy's lines are accompanied with a background chorus.
The German dub has the song left in English.
In the Spanish version, Papa Smurf sings the first two lyrics, and then the rest of the song is spoken, followed by gentle laughter from all of the Smurfs.
In the Italian version, the song is spoken by a female narrator.
In the Hebrew version, the song is sung by a woman (the same actress who does the Hebrew narration and lyrics for the intro sequence) and the Smurfs' gentle laughter is not heard.
Ad blocker interference detected!
Wikia is a free-to-use site that makes money from advertising. We have a modified experience for viewers using ad blockers

Wikia is not accessible if you've made further modifications. Remove the custom ad blocker rule(s) and the page will load as expected.