Ad blocker interference detected!
Wikia is a free-to-use site that makes money from advertising. We have a modified experience for viewers using ad blockers

Wikia is not accessible if you've made further modifications. Remove the custom ad blocker rule(s) and the page will load as expected.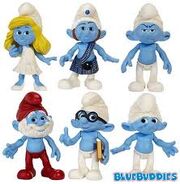 Movie Grab'ems
are toys currently produced by Jakks Pacific. They are not to be confused with the
2009 Jakks Pacific toys
. They are based off the 2011 and 2013 movies and contain a variety of Smurfs. They are available at Target and Toys
R
Us stores.
Single Packs
Double Packs
Papa Smurf and Clumsy Smurf
Smurfette and Gutsy Smurf
Gargamel and Azrael
Brainy and Chef Smurf
Farmer and Baker Smurf
Hefty and Handy Smurf
Panicky and Painter Smurf
Vanity and Grouchy Smurf
Chef and Baker Smurf
Clumsy Smurf and Smurfette
Grouchy Smurf and Vexy
Papa Smurf and Hackus
Painter Smurf and Smurfette
Playsets
Papa Smurf and Papa Smurf's lab
Grouchy Smurf and bridge with boat
Gargamel and Gargamel's lab
Papa Smurf and Papa Smurf's mushroom house
Smurfette and Smurfette's mushroom house
Multipacks
Papa Smurf, Smurfette, Clumsy Smurf and Gargamel (Toys R Us exclusive)
Clumsy Smurf, Gutsy Smurf, Greedy Smurf and Gargamel (Toys R Us exclusive)
Smurfette, Baker Smurf, Brainy Smurf and Clumsy Smurf
Papa Smurf, Hackus, Smurfette and Clumsy Smurf
Movie Magic Moments
Smurfette with taxi and bench
Handy with lampost, ladder, barrel, and wheel barrel
Mushroom Boxes
Papa Smurf
Smurfette
Clumsy Smurf
Grouchy Smurf
Images