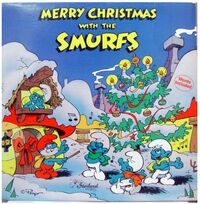 Merry Christmas With The Smurfs is an album featuring the Smurfs that was released by PolyGram in 1983. It is one of the few Smurf-related musical works released that is centered around Christmas, with the other work being the Father Abraham single "Christmas In Smurfland".
SIDE A:
Smurfing Bells
Winter Wonderland
Santa Claus Is On His Way
Let Us Sing Together
Churchbells Are Singing
Oh, Christmas Tree
Christmas Presents.
SIDE B:
Little Drummerboy
The Twelve Days Of Christmas
Santa Claus Will Come Tonight
Deck The Halls
Bells Jingle
Silent Night, Holy Night
We Wish You a Merry Christmas.
Ad blocker interference detected!
Wikia is a free-to-use site that makes money from advertising. We have a modified experience for viewers using ad blockers

Wikia is not accessible if you've made further modifications. Remove the custom ad blocker rule(s) and the page will load as expected.