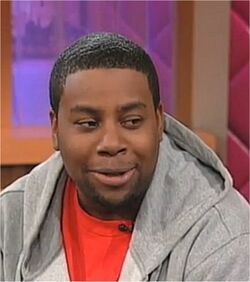 Kenan Thompson (born May 10, 1978) is an American actor and comedian. He is best known for his work as a cast member of NBC's long-running sketch comedy series Saturday Night Live. He is also known for his starring roles in the films Good Burger and Fat Albert, his portrayal of Kenan Rockmore on the Nickelodeon sitcom Kenan & Kel, and as an original cast member of the Nickelodeon sketch comedy series All That.
In the 2011 Smurfs movie and its 2013 sequel, Kenan Thompson is the voice of Greedy Smurf.
Ad blocker interference detected!
Wikia is a free-to-use site that makes money from advertising. We have a modified experience for viewers using ad blockers

Wikia is not accessible if you've made further modifications. Remove the custom ad blocker rule(s) and the page will load as expected.