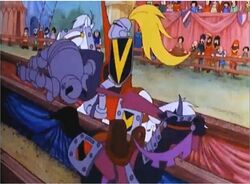 A joust is a human sport held by kings with various contestants, usually of nobility, dressed in armor and charging at each other on horseback, using spears to unseat their opponent.
In the animated version of The Smurfs And The Magic Flute, a jousting tournament is held at the beginning by The King, with one match being The King's champion Sir Johan against Lord Spottlebottom the Black Knight. Lord Spottlebottom looked certain that he was going to win, but Sir Johan successfully knocked him down in one blow, making his opponent say to himself that he should have been a dancer.
In the Smurfs' cartoon show episode, "The Smurfs Of The Round Table", the beginning of the story was set in a jousting competition in England during the Arthurian period. However, the joust was stopped as the evil sorceress Morgan le Fey and her assistant, the Dark Knight, appeared to ruin the event.
Ad blocker interference detected!
Wikia is a free-to-use site that makes money from advertising. We have a modified experience for viewers using ad blockers

Wikia is not accessible if you've made further modifications. Remove the custom ad blocker rule(s) and the page will load as expected.