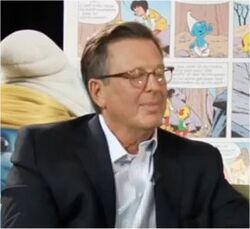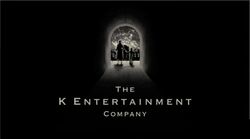 Jordan Kerner is an American film producer who is involved with the production of the 2011 Smurfs movie and its 2013 sequel. His previous production works include:
2006 Charlotte's Web
2003 George of the Jungle 2
2003 A Wrinkle in Time
2003 Inspector Gadget 2
2002 Red Skies
2002 Snow Dogs
2001 Uprising
2000 A House Divided
1999 Inspector Gadget
1999 My Last Love
1998 Mama Flora's Family
1998 Poodle Springs
1997 Red Corner
1997 George of the Jungle
1997 Dogs
1996 D3: The Mighty Ducks
1996 Up Close & Personal
1995 Naomi & Wynonna: Love Can Build a Bridge
1995 Miami Rhapsody
1994 The War
1994 When a Man Loves a Woman
1994 D2: The Mighty Ducks
1993 The Three Musketeers
1993 For Their Own Good
1993 The Switch
1992 The Mighty Ducks
1992 The Nightman
1991 Fried Green Tomatoes
1991 Backfield in Motion
1990 Funny About Love
1990 Heat Wave
1989 Do You Know the Muffin Man?
1989 Breaking Point
1988 My First Love
1988 Side by Side
1987 Less Than Zero
In The Smurfs 2, two Smurfs are seen standing next to the mother and child in the Kerner Entertainment Company logo at the beginning of the film.
Ad blocker interference detected!
Wikia is a free-to-use site that makes money from advertising. We have a modified experience for viewers using ad blockers

Wikia is not accessible if you've made further modifications. Remove the custom ad blocker rule(s) and the page will load as expected.