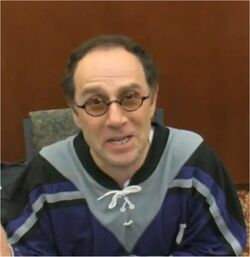 John Kassir (born October 24, 1957) is an American actor, voice actor, and comedian who is perhaps best known as the voice of the Crypt Keeper in HBO's Tales from the Crypt. Kassir is also best known for his voice work as Ray "Raymundo" Rocket on Rocket Power, the mischievous Raccoon Meeko in Pocahontas, Jibolba in the Tak and the Power of Juju video game series, and the current voices of Pete Puma in The Looney Tunes Show, and Deadpool in X-Men Legends II: Rise of Apocalypse and the Marvel: Ultimate Alliance series.
In the 2011 Smurfs movie and its 2013 sequel, John Kassir is the voice of Crazy Smurf.
Ad blocker interference detected!
Wikia is a free-to-use site that makes money from advertising. We have a modified experience for viewers using ad blockers

Wikia is not accessible if you've made further modifications. Remove the custom ad blocker rule(s) and the page will load as expected.