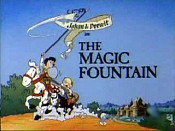 "Johan And Peewit" is a series of episodes from the Smurfs cartoon show that have appeared in Seasons 2 and 3 where the main characters are Sir Johan and Peewit, with the Smurfs as supporting characters. These episodes usually run for around 30 minutes and have their own episode title card that appears at the beginning of the story. In foreign markets, the Johan and Peewit episodes were aired separately from the Smurfs cartoon show, though with a modified version of The Smurfs Season 2 intro.
Episodes
Originally from Season 2:
The Black Hellebore
The Sorcery Of Maltrochu
The Goblin of Boulder Wood
Johan's Army
Magic Fountain
The Imposter King
The Raven Wizard
The Ring Of Castellac
The Prince And The Peewit
The Enchanted Baby
Adopted into the series from Season 3:
Peewit Meets Bigmouth
International title logos
Ad blocker interference detected!
Wikia is a free-to-use site that makes money from advertising. We have a modified experience for viewers using ad blockers

Wikia is not accessible if you've made further modifications. Remove the custom ad blocker rule(s) and the page will load as expected.