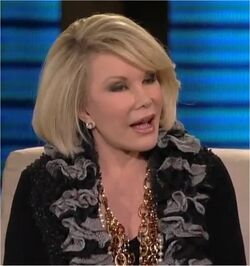 Joan Rivers (born Joan Alexandra Molinsky; June 8, 1933 - September 4, 2014) is an American comedian, television personality and actress. She is known for her brash manner; her loud, raspy voice with a heavy New York accent; and her numerous cosmetic surgeries. Rivers's comic style relies heavily on poking fun at herself and other celebrities, mostly about their fashion sense, or according to her, the lack thereof.
Joan's previous work in children's entertainment includes being the narrator of the "Adventures Of Letterman" segments of the 1970s The Electric Company show produced by the Children's Television Workshop. She also appeared in the 1984 The Muppets Take Manhattan movie and did voice work for Shrek 2.
Joan Rivers appears as a party guest at Odile's cosmetics promotional party in the 2011 Smurfs movie.
Ad blocker interference detected!
Wikia is a free-to-use site that makes money from advertising. We have a modified experience for viewers using ad blockers

Wikia is not accessible if you've made further modifications. Remove the custom ad blocker rule(s) and the page will load as expected.