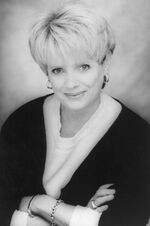 Jennifer Darling (born June 19, 1946) is an American voice actress who provides the voices for Princess Savina in the Smurfs cartoon show. Her voice work also includes anime, video games, and other animated features such as Disney's Aladdin, Annabelle's Wish, Bionic Six, Capitol Critters, The Centurions, Darkwing Duck, Galaxy High, G.I. Joe: The Movie, Visionaries: Knights of the Magical Light, The Gary Coleman Show, The Grim Adventures of Billy and Mandy, Iron Man, Poochie, TaleSpin, and Teenage Mutant Ninja Turtles.
Ad blocker interference detected!
Wikia is a free-to-use site that makes money from advertising. We have a modified experience for viewers using ad blockers

Wikia is not accessible if you've made further modifications. Remove the custom ad blocker rule(s) and the page will load as expected.