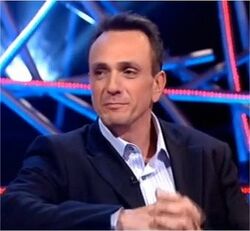 Hank Albert Azaria (born April 25, 1964) is an American film, television and stage actor, director, comedian. He is noted for being one of the principal voice actors on the animated television series The Simpsons. He performs the voices of Moe Szyslak, Chief Wiggum and numerous other characters.
Hank Azaria played the role of Gargamel in the 2011 Smurfs movie and its 2013 sequel. He has voiced the same character in the animated features The Smurfs: A Christmas Carol and The Smurfs: The Legend Of Smurfy Hollow.
Ad blocker interference detected!
Wikia is a free-to-use site that makes money from advertising. We have a modified experience for viewers using ad blockers

Wikia is not accessible if you've made further modifications. Remove the custom ad blocker rule(s) and the page will load as expected.