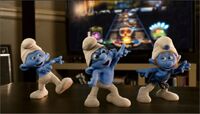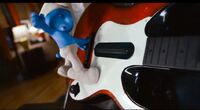 Guitar Hero is a series of rhythm-based videogames created by Harmonix, developed later by Neversoft and Vicarious Visions, and marketed by Activision for various game system platforms. The game has the player use a game controller in the form of a musical instrument (mainly a guitar) to follow the musical notes of a song as they appear on the screen in the form of dots and bars on a constantly-scrolling guitar neck. One of the games in the series, Guitar Hero: Aerosmith, appears in The Smurfs movie as a form of entertainment that Patrick Winslow and the Smurfs that were staying with him and his wife Grace engage in, performing to the Aerosmith/Run D.M.C. version of "Walk This Way".
External Link
Ad blocker interference detected!
Wikia is a free-to-use site that makes money from advertising. We have a modified experience for viewers using ad blockers

Wikia is not accessible if you've made further modifications. Remove the custom ad blocker rule(s) and the page will load as expected.