Grog
Gender
Male
Race
Human
Occupation
Student
Alignment
Evil
Voice Actor
James Rankin
First Appearance
Season 9 ("The Smurfs That Time Forgot" and "Lost In The Ages")
Universe
Cartoon Show
Gallery
Grog is a character that appeared in the three-part episode "The Smurfs That Time Forgot". He was a cave child student who was mischievous, always playing pranks on his fellow students and getting in trouble with his teacher who sends him into the corner wearing a dunce cap. He is accompanied by a sabertooth cat named Mangy, and could possibly be a distant ancestor of the evil wizard Gargamel.
Of his own initiative, Grog went on his own field trip when he was prevented from going with his class on theirs when he came across a Smurf, namely Clumsy, who was searching for some rocks to start a fire with. He captured Clumsy when he discovered that he was able to start a fire with rocks, and with the Smurf hidden inside his tunic, he made himself king over his own class with the secret power of "the dancing lights".
Soon, his cat captured three more Smurfs that he intended to cook over a fire and serve to his pet when he received an unfriendly visit from the Smurfs' new friends -- Crinkles and his family -- who along with Papa Smurf, Grandpa Smurf, and Snappy rescued their captive fellows and escaped. Grog was left with a wrecked class cave, an angry teacher, and a fire in his seat that he goes into a lake to put out.
His direct rival seems to be the top student in his class, a girl named Unga, and they constantly try to out-do each other. Though they are against one another as children, it is quite possible -- based on the nature of boys -- that he likes her or will like her in the future.
He was voiced by James Rankin.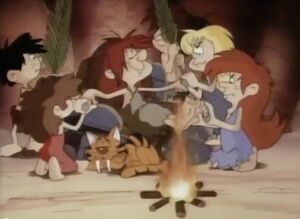 Ad blocker interference detected!
Wikia is a free-to-use site that makes money from advertising. We have a modified experience for viewers using ad blockers

Wikia is not accessible if you've made further modifications. Remove the custom ad blocker rule(s) and the page will load as expected.