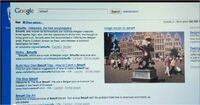 Google is an Internet web search engine owned by Google, Inc. It is used by Patrick Winslow in the 2011 Smurfs movie to research the legend of the Smurfs on his laptop computer.
The first search result entry leading to a Wikipedia page article reads like this about the Smurfs:
"Smurfs, also known as Schtroumpfs, are mythical Belgium creatures, three apples high, who, like the Leprechauns of the Irish, are thought to bring good luck. Smurfs were first documented in 1958 by the Belgian artist, Pierre Culliford, known as Peyo, who followed a boyhood fascination for them..."
The following search results include "building your own Smurf trap" and a fictional pub and soccer bar called "The Blue Smurf".
Note
The search engine result page was most likely created specifically for the movie to establish the Smurfs as legends rather than fictional creations by Peyo, as in the real world.
The date of Peyo's first discovery of the Smurfs being 1958, in-universe, is also the same year that the Smurfs first appeared in comic books in the real world.
While The Blue Smurf pub and soccer bar is most likely fictional, there is a Schtroumpf Salad Bar & Grill restaurant in Beirut with three locations: one in the heart of Achrafieh Beirut, one on the Dbayeh-Marina Highway and another overlooking the Jounieh bay. However, its only relation to the Smurfs is simply the use of their French name.
See Also
Ad blocker interference detected!
Wikia is a free-to-use site that makes money from advertising. We have a modified experience for viewers using ad blockers

Wikia is not accessible if you've made further modifications. Remove the custom ad blocker rule(s) and the page will load as expected.