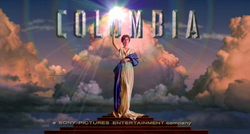 Columbia Pictures is the film production and distribution company that distributes the 2011 Smurfs movie, its 2013 sequel and its 2017 fully CGI reboot as well as other Sony Pictures Animation movies.
The studio now forms part of the Columbia TriStar Motion Picture Group, owned by Sony Pictures Entertainment, a subsidiary of the Japanese conglomerate Sony, and is one of the leading film companies in the world, a member of the so-called Big Six. It was one of the so-called Little Three among the eight major film studios of Hollywood's Golden Age.
The company was founded in 1919 as CBC Film Sales and adopted the Columbia Pictures name 5 years later in 1924. It was owned by Sony since September 28, 1989.
Ad blocker interference detected!
Wikia is a free-to-use site that makes money from advertising. We have a modified experience for viewers using ad blockers

Wikia is not accessible if you've made further modifications. Remove the custom ad blocker rule(s) and the page will load as expected.