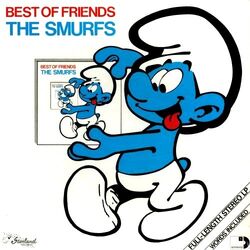 Best Of Friends - The Smurfs is an album featuring the Smurfs that was released by K-Tel and Starland Music in 1982.
SIDE ONE:
The Smurf Song
Smurf Square Dance
Little Blue Car
Dance with the Reggae Smurf
Rockin' Smurfs
Smurfin' Summertime
Smurf Rodeo
Happy Birthday
Let's Play Another Smurf
SIDE TWO:
Smurfing Around the World
Follow My Leader
The Best Friend of All
Believe
If You Come to Smurfing Land
Ten Little Smurfs
Here's a Smurf
There's a Smurf
Toy Shop
Sleep Until the Brand New Day
Ad blocker interference detected!
Wikia is a free-to-use site that makes money from advertising. We have a modified experience for viewers using ad blockers

Wikia is not accessible if you've made further modifications. Remove the custom ad blocker rule(s) and the page will load as expected.