Baby Smurf
Also Known As
Papa Smurf (future name)
Gender
Male
Race
Smurf
Occupation
Infant
Alignment
Good
Voice Actor
Julie McWhirter
First Appearance
Season 3
Gallery
Name Translation of Baby Smurf (real)
Greek
Μωρό-Στρουμφ
For other uses, see Baby Smurf (disambiguation)
Baby Smurf (original French name Bébé Schtroumpf) is one of the main characters of the Smurfs cartoon show, who has appeared on the show from Season 3 to the end.
Bio
He was brought to the village by a stork from an unknown location where presumably all baby Smurfs came from. He became the object of affection from all the Smurfs who have known him from that point on. He also exhibited some magical powers that came into use whenever the situation required it.
Baby Smurf can only utter baby-talk words and usually appears swinging a baby rattle.
Relationships
Baby Smurf is one of the extreme few to ever warm Grouchy Smurf's heart. Grouchy even went so far as to take Baby and hide with him in the woods so that the stork wouldn't take him back. Papa Smurf was able to see how much of an impact Baby had on Grouchy, that he loved Baby more than anyone could realize, but was too afraid to let it show. It was because of Grouchy's sincere devotion that the Smurfs were able to keep Baby.
He can be seen being cared for by Smurfette, who nurtures him just like a normal mother would nurture her infant. It was because of her letter and Grouchy's devotion that Baby was able to stay in Smurf Village. Possibly in "Smurfette Unmade", as soon as Smurfette changed evil, her love for Baby might have died (possibly becoming her once-fellow Smurf). However, when Smurfette felt guilty and asked if Gargamel could spare Baby, but once Gargamel said he going to use Baby to test his formula and was about to take him, she changed back to her sweet self and her love for him was reborn, which could possibly mean she loves Baby more than anybody else.
Hefty Smurf is also seen caring for Baby Smurf most of the time whenever Papa Smurf or Smurfette is busy. He tends to refer to Baby as "the little squeezer" or "the little tyke".
Sassette Smurfling can once in a while be seen with Baby as well.
Snappy and the other Smurflings considered Baby to be trouble, but changed their minds when Baby brought back a sound from the Noise Maker in Echo Valley to break a magical sound barrier set up by Brainy.
Baby's best friend is Puppy.
Smurf Videogames
Smurfs' Village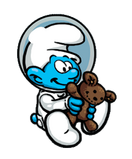 Baby Smurf appears in the app Smurfs' Village. Baby costs 30 smurfberries or 400 clown tickets. His house is a multi-colored nursery with Blocks, a carriage, a ball, blocks, and the teddy bear Snappy gave him. He gives 60xp every few hours when you press on the bottle above his head.
Trivia
His character was voiced by Julie McWhirter.
Smurfette once noted that Baby Smurf is very bright, and that he may become leader of a new generation of Smurfs. Ironically, Baby is the one who digs up the Long Life Stone - after which, Papa Smurf notes that in another 1000 years the next mission to restore the stone's power would be led by Baby Smurf who won't be a baby then. However, given that Baby Smurf is one of seventeen Smurf characters in Season 9 of the cartoon show who end up traveling in time due to the loss of the key that controls the time crystals, it is uncertain whether Baby will actually return to fulfill that future role.
Even though Baby Smurf is male, interesting enough, the episode avoids using pronouns to refer to his gender.
Baby's first word was Gargamel. He can also say Yuck, Uh-Oh, Pow, and Whee.
Baby loves animals.
Despite being one of the main characters in the cartoon show, Baby did not appear in the 2011 live-action CGI movie, most likely due to it being a "non-canonical" Smurf presentation focusing on the original 100 Smurfs. However, his comic book animation appears at the end credits.
Brainy Smurf in the cartoon show is jealous that Baby will be the next Papa Smurf.
External links