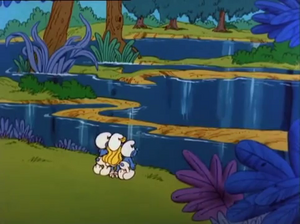 Avalon is a watery location upstream of Atlantica in the Smurf forest. The mermaid Marina was attempting to swim there when Handy met her in "Handy's Sweetheart", as it contains the antidote for her ailing father's illness. It is guarded by a mean custodian who guards the pool from anyone who takes its healing herbs without paying for them. Smurfette and her team of Smurfs were captured by the custodian, but a few other Smurfs captured the custodian and offered him a trade of smurfberry cookies in exchange for the herbs, which he accepted.
The name is the same as the mythical paradise of Arthurian mythology. It is encountered in fictional adaptations such as the visual novel/anime Fate/stay night.
Ad blocker interference detected!
Wikia is a free-to-use site that makes money from advertising. We have a modified experience for viewers using ad blockers

Wikia is not accessible if you've made further modifications. Remove the custom ad blocker rule(s) and the page will load as expected.