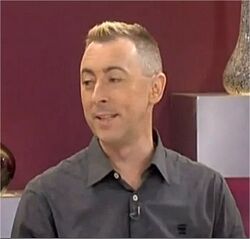 Alan Cumming, OBE (born 27 January 1965) is a Scottish stage, television and film actor, singer, comedian, director, producer and author. His roles have included the Emcee in Cabaret, Boris Grishenko in GoldenEye, Kurt Wagner/Nightcrawler in X2: X-Men United, Mr. Elton in Emma, Fegan Floop in the Spy Kids trilogy, and the voice of Loki in Son of the Mask. He provided the voice of Gutsy Smurf in the 2011 Smurfs movie, the 2013 sequel, and The Smurfs: The Legend Of Smurfy Hollow.
Ad blocker interference detected!
Wikia is a free-to-use site that makes money from advertising. We have a modified experience for viewers using ad blockers

Wikia is not accessible if you've made further modifications. Remove the custom ad blocker rule(s) and the page will load as expected.